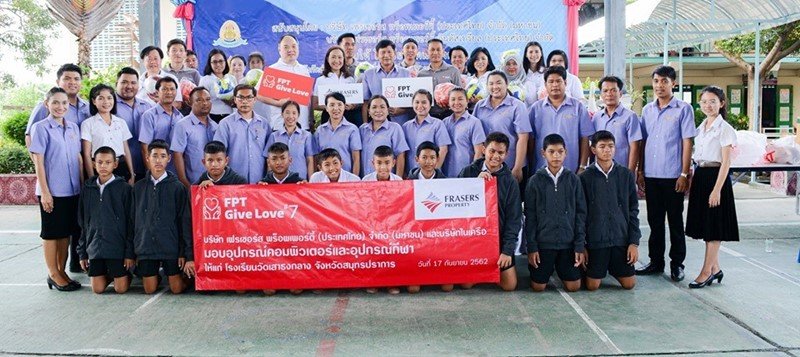 On Tuesday, September 17th 2019, FPT's department head of Risk Management, Corporate Governance and Sustainability, FPT's Property Management, FPT's Information Technology, and FPT's Center of Excellence, and many other FPT's volunteers made a trip to Bangplee in Samut Prakarn province to give PC sets and sports equipment for educational use to principals of two municipal schools in the area near Bangplee Industrial Estate which is FPT's seventh consecutive year CSR activities under the name FPT Give Love.
Wat Sao Thong Klang School is particularly interested in electronics and advanced technologies. The school has over 20 educational clubs two of which are Robotic Club and Computer Club. Members of those clubs are capable of making robots or software which earned the school a few prizes from competition. FPT's Drone Flying Club sent volunteer members to the school to display drone flying skills in front of students which was very well received and inspired them to learn how to build and fly drone. The school later nominated FPT to receive the honor shield for having supported its student development program in 2019 under Ministry of Education's Partnership School Project.
Ban Rai Mosque School has FPT involved in supporting its recreational activities outside the classroom. Students are encouraged to spend their free time to learn or practice what they are interested in so they can develop the skills of which they could use to make their living in the future. The PC sets given to the school by FPT would be used to train students how to fix a computer so students can repair broken computers for income. During FPT's recent visit to the school, some students presented their performance skills including singing and comedy show in front of the guests.