Our business operation
Overall company structure comprises 3 businesses as followed;
Residential Property Business
Industrial Property and Investments in Related Businesses
Commercial Property Business
Residential property business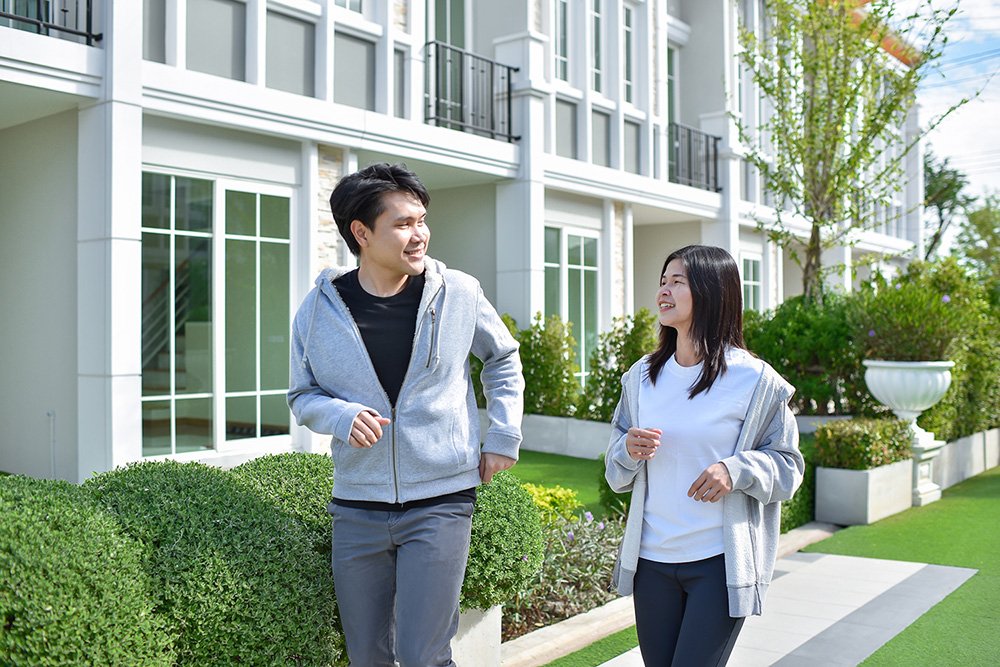 The Company and its subsidiaries engage in the real estate development business that offers a wide range of residential products, brands and development styles. The development includes low rise residential projects that offer sales of single-detached houses, semi-detached houses, and townhomes. The development tasks comprise infrastructure work within each development project, and for all product pricing, which are differentiated by product lines under different brands to cover diverse market segments and different clienteles.
The product brands for the Company and its Group are:
| Product Type | Brand | Price Range |
| --- | --- | --- |
| Single-detached | | 15 - 40 MB |
| House | | 6 - 15 MB |
| Semi-detached house | | 5 - 10 MB |
| 2 - 3 Story Townhouse | | 3 - 6 MB |
| 2 Story Townhouse | | 2 - 4 MB |
| 4 Story Shophouse | | 5 - 7 MB |
In 2021, the Company launched 14 new residential projects with total project value of Baht 19 billion, comprising product categories as followed:
Townhome - 5 Projects
Semi-detached house - 5 Projects
Single-detached house - 2 Projects
Upcountry - 2 Projects
Industrial Property and Related Businesses
The Company provides integrated development of industrial properties with a strong portfolio of factory and warehouse of over 3.0 million square meters under management in key locations nationwide. Factory and warehouse offered by the Company are both in Ready-Built and Built-to-Suit type with a strong focus to expand Built-to-Suit development projects. The Company's factories and warehouses are located in strategic locations under various industrial estates, industrial parks, industrial promotion zones, logistic parks, and free-trade zones of Thailand.
Business Operations by Product Types
1. Ready-Built Factory
The Company develops Ready-Built Factory of international standard in order to facilitate demand of manufacturers and companies who want to set up a business in Thailand but do not want to own the factories in order to reduce investment cost and avoid downside risk from uncertainties. The Company develops factories in many strategic locations of Thailand that can cater for manufacturers of different industries. The Company also provides other services related to setting up a business in Thailand since more than 80% of tenants are foreign companies.
The Company considers site selection of the factories based on demand of existing tenants as well as potential market demand in the near future. The Company also considers other factors when determining the locations including benefits under promotional zones, accessibility to international ports and airports, proximity to Bangkok as well as quality of infrastructure of industrial estates and/or industrial parks.
The Company develops factories in Export Processing Zone, General Industrial Zone as well as other areas as required by the tenants. The demand from tenants can be specific, for example manufacturer who wants factories in Export Processing Zone would also prefer to be within proximity of deep sea port.
Factories of the Company is a single storey building with mezzanine office, proper fencing and landscaping, and with attached guard house, parking spaces and truck loading area. The factories are of international quality and can be customized to the tenants' specific requirement. The sizes range from 550 sqm. to 12,000 sqm. Typical sizes of the factories have been smaller over the years given rising demand of tenants with smaller-sized business operations. The factories have 1 - 3 tons floor load and is built on steel portal frame which does not require support from structural columns and hence provides more useable areas.
Leases between the Company and tenants are largely within 3 years. The Company will approach tenants for renewal closer to expiry date. Tenants also have an option to re-locate to other factory locations offer by the Company or rent factories of other sizes.
2. Ready-Built Warehouse
The Company's wholly owned subsidiary Frasers Property Industrial (Thailand) Co., Ltd. or "FPIT" (previously known as TICON Logistics Park Co., Ltd. or "TPARK") is a leading developer in ready-built warehouses of international quality. Logistics plays a crucial role in distributing goods and supplies throughout the country, and serves as a key enabler to develop Thailand's competitiveness as the hub of ASEAN. Presently, majority of logistics providers prefer to invest in technological software and logistics system rather than developing brick-and-mortar infrastructure. This creates an ideal opportunity for the Company to lease warehouses to these logistics providers.
The Company's warehouses are located in strategic locations that are ideal for distribution centers. The warehouses are designed to cater for modern logistics management systems, with clear heights, wide column spans, dock levelers, and sufficient floor loads.
Typically, warehouse leases term cover around 3 years with an option to renew. Going forward, the Company expects more contribution of Built-to-Suit warehouses with longer lease term of more than 3 years. Currently the average term of Built-to-Suit contracts is approximately 10 years. In addition, the Company also offers Sale and Leaseback option for its customers.
3. Built-to-Suit Factory and Warehouse
The Company develops industrial property design to meet customer's requirement by focusing on the usage of each business operator in different industry. In addition, Built-to-Suit project could maximize factory and warehouse efficiency including cost saving and enhancing productivity of business production as well as warehouse storage. The Company has a strategic location ready to develop Built-to-Suit project under industrial estates, industrial parks, industrial promotion zones and others zone in Thailand. Built-to-Suit project has a long-term contract between 10 to 15 years which further boosts occupancy rate and generate a sustained revenue stream whilst reducing expenses and advertisement costs.
During the year of 2020, The Company built-to-suit portfolio has gained traction especially regarding the completion and handover of large-scale Built-to-Suit warehouses well-catered to customer requirements in strategic locations. The Company continued to secure a strong pipeline for further project development.
4. Investment and property management business
The Company has a policy to invest in real estate investment trust for not less than 20% of total investment units to receive recurring investment return which is in form of annual dividend payment. In addition, the Company is also a property manager who manages property assets owned by FTREIT. This provides another source of income stability to the Company in form of property management fee.
5. Trust management business
The Company operates and manages real estate investment trust through its 70% owned subsidiary, Frasers Property Industrial REIT Management (Thailand) Co., Ltd. or "FIRM" (previously known as TICON Management Co., Ltd. or "TMAN"). The Company converted three property funds; TFUND, TLOGIS and TGROWTH into Frasers Property Thailand Industrial Freehold and Leasehold REIT or "FTREIT" (previously known as TICON Freehold & Leasehold Real Estate Investment Trust or "TREIT") on 28 December 2017. Additionally, FTREIT acquired assets from FPT by 112,525 square meters in 2020, FTREIT has been the largest industrial real estate investment trust in Thailand with total assets value of more than Baht 41 billion. FIRM, as a REIT Manager, receives management fee on an annual basis and pays dividend to the Company.
6. Other services
Modification of factory/warehouse building
The Company has an in-house design team, project development team and project management team. The Company is well positioned to assist customers in design and modification work of factory/ warehouse as required by the customers.
Procurement of utilities
The Company provides assistance to customers to procure utility services and other related assistance as appropriate.
Procurement of permits from the authority
The Company provides assistance to customers to obtain relevant permits and approvals necessary to commence manufacturing operations swiftly such as the Operation Permit. Moreover, the Company also assists the customers to procure work permits for any of their foreign employees, which is deemed as one-stop service to facilitate customers from other countries.
Other services
As the Company has been in the business for a long time and fostered a good relationship with many business partners in different industrial sectors, the Company is in a unique position to provide other relevant services to the customers i.e. introducing suppliers or potential employees to the customers.
Commercial Property business
For commercial developments, the Company aims to develop management efficiency and quality to better respond to its customer needs consistently. It also promotes activities that encourage growth in its rental occupancy and enable a continual increase in its revenues. At present, the Company has the following commercial developments which are serviced apartments, hotels, and office buildings:
FYI Center

FYI center is located at the corner of the Rama 4 and Ratchadapisek (Phai Sing To) Roads, close to the Queen Sirikit National Convention Center and within a walking distance from the subway station (MRT) which has direct access to the front of the building. This project comprises a 12-story office building and three underground floors with a lettable area of 50,000 square meter, designed with flexibility in space utilization under the "Business + Creativity" concept. The project was completed in the second quarter of 2016 and was awarded the Gold Level certification of Leadership in Energy and Environmental Design (LEED) from the U.S. Green Building Council (USGBC) around the end of 2016 and the Award for Outstanding Quality of Life Project 2018 in the category of office buildings from the Association of Siamese Architects under the Royal Patronage.

Goldenland Building

The Goldenland Building is an 8-story office building with one underground floor that lodges a total lettable space of about 11,000 square meters, located near the main shopping area of central Bangkok with shopping places such as Centralworld, Gaysorn Shopping Centre, and Central Chidlom, as well as famous nearby hotels such as the Anantara Siam Bangkok Hotel, the Grand Hyatt Erawan, and the InterContinental Hotel. Located in Soi Mahadlekluang 1, the building is only 400 metres away from the Chidlom and Ratchadamri BTS Skytrain Stations. The building is also designed to afford the occupants' adaptability with flexibility for small and medium enterprise tenants.

Additionally, GOLD is the property manager for the following projects:

Park Ventures Ecoplex

Park Ventures Ecoplex is a Grade A office building for lease in the central business district, located at the corner of the Ploenchit and Wireless Roads, with direct passage from the BTS Ploenchit Station. The project was awarded the Platinum Level certification of LEED (Leadership in Energy and Environmental Design Award) from the U.S. Green Building Council (USGBC).

Sathorn Square

Sathorn Square Office Tower is a 40-story commercial office building with 5 underground floors. It has a rental area of over 73,000 square meters, located in the heart of the central business district, at the Sathorn - Narathivas intersection with a direct passage link to the Chong Nonsi BTS Skytrain Station. The Sathorn Square Office Tower has a unique architectural design. Its rental spaces on each floor is designed to provide more open space, with no pillars, and increased flexibility in space usage and open floor office designs. The tower is an "Energy Conservation Building" that received the LEED Gold Certification (Leadership in Energy and Environmental Design Award) from the U.S. Green Building Council (USGBC). GOLD has sub-leased its leasehold rights to Golden Ventures Leasehold Real Estate Investment Trust (GVREIT) in April 2016.

Samyan Mitrtown

Samyan Mitrtown is a mixed-use complex building. The project is worth more than Baht 9,000 million (which GOLD holds 49% of its share) located at Samyan intersection connecting Phaya Thai Road and Rama IV Road, and connected to the walking tunnel from MRT Samyan Station. Samyan Mitrtown comprises of 1) rental office space 2) hotel and residential area and 3) retail space. The details about the project are as follows;

- Office area: Mitrtown Office Tower is a grade A 31-story office building with a net lettable area of 48,000 square meters. The office area is equipped with turnstile system and the face scan security features. In addition, there are LED lamps in the whole building for energy saving, VAV system (air conditioning system which can adjust the temperature in sub-areas), and column-free office space. The project was awarded the Gold Level certification of LEED from the USGBC in August 2020.

- Residential area: Residential tower is a 33-story that consists of Triple Y Leasehold Residence (516-unit condominium) and segregated area for Triple Y Hotel (102-room hotel) with key card security system in all rooms and public areas such as swimming pool. gym, library, etc. Triple Y Residence and Triple Y Hotel initially operated in August 2019 and September 2019 respectively.

- Retail area: Six-story building with a net lettable area of 36,000 square meters. Developed with the concept of 'Learn Well and Eat Well', the retail area hosts famous shops from the old Samyan and in-trend shops. There is a 24-hour zone to serve people at all time, and Mitrtown Hall with a 1,800 square meters space to host events, meetings, seminars, etc. started commencing service in September 2019.

W Bangkok

Nestled in the inner city and adjacent to Sathorn Square office building, W Bangkok Hotel is a 30-storey luxury haven with five-story underground floor and boasts a total of 403 sleek, cozy and amenities-filled rooms with reclusive ambience. In addition to all modern comforts on offer, the upscale W Hotel is just a stone's throw from BTS Chong Nonsi Skytrain mass transit system. Managed by the most renowned hospitality conglomerate Marriott International, the five-star hotel garners prestigious accolades, i.e. Best Design Hotel Worldwide 2015, but to name a few. GOLD entered into a joint venture agreement, holding 20% of its shares, with foreign entities to develop the project.

Modena by Fraser Bangkok

Modena by Fraser Bangkok is a 239-room, 14-story hotel with an underground floor, under the management of Fraser Hospitality. The hotel offers an at-home atmosphere and experience. The hotel building is located next to the FYI center and not far from the Queen Sirikit National Convention Center, and Khlong Toei Port, with access to many commercial areas via the subway line making this hotel convenient for business travelers.

The Ascott Sathorn and Sky Villas

TThe Ascott Sathorn Bangkok is a contemporary serviced apartment building situated amid the central business district of Sathorn Road, near the Chong Nonsi BTS Skytrain Station. This 35-story building houses 177 serviced apartment units, managed by the Ascott Group Limited, a leading serviced residence and hotel operator from Singapore. The 21st to 35th floor of the building locates the "Sky Villas" the luxurious and exclusive residential high-rise apartments decorated by renowned interior designers.

Mayfair Marriott Executive Apartment

Mayfair Marriott Executive Apartment is designed to be one of the most luxurious serviced apartment buildings in Bangkok, with a height of 25 stories. This development has also been granted a hotel operating license. The building houses 164 apartment units, with various sizes ranging from 1 to 3 bedrooms, and is managed by the Marriott International Inc., a global brand hotel chain and leading hotel management company. The building is located in the middle of Soi Langsuan, not far from the BTS Skytrain Station and adjacent to Lumpini Park which is a famous park within the Bangkok central business district.