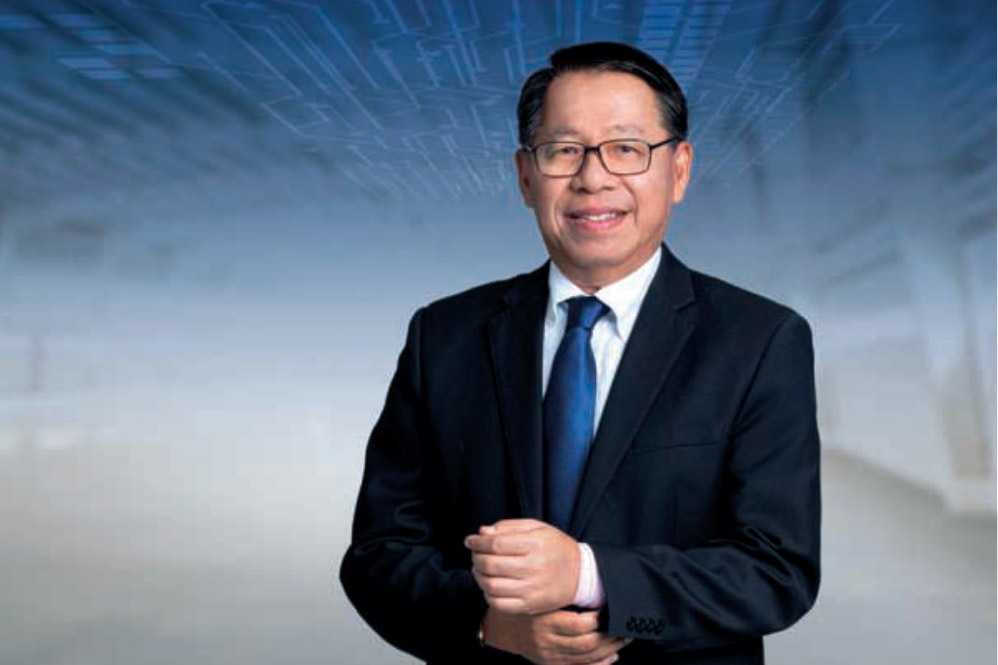 To Shareholders of Frasers Property (Thailand) Public Company Limited
2020 was a crucial year for Frasers Property (Thailand) Public Company Limited ("FPT") as we reached an important milestone to become one of the Top 5 leading real estate developers in Thailand, following the voluntary tender offer and acquisition of Golden Land Property Development Public Company Limited ("Gold") which was completed in August 2020. The combined value of FPT assets and investment portfolio under management in FTREIT, GVREIT and GOLDPF totalled 146,000 million baht, spanning three asset classes across 1) Residential 2) Industrial and 3) Commercial, as well as digital business platform including robotics and automation solutions together with the hyperscale data centre that are currently under development and expected to be ready for service by mid-2021.
Amidst the unprecedented and widespread impact of the COVID-19 outbreak, which has affected people's health and well-being, society and the economy all over the world, not least the real estate sector, we have taken utmost care to ensure our operations are carried out in a safe, and responsible manner for our community, society and the environment. With a strong commitment towards good governance, we have extended as much flexibility as we can to support our partners, clients and customers, in the hope that we shall all get through this crisis together. We have also offered rental relief packages to our commercial and retail tenants, whom are among the hardest hit by the impact of the pandemic. As such, we were able to maintain our commercial portfolio occupancy rate as of September 2020 at 93%. Moreover, we have rolled out promotional campaigns after lockdown measures were eased to draw in traffics and new retail tenants at our commercial properties. Consequently, Samyan Mitrtown saw its tenancy rate climb to 90% with the opening of several new stores. However, the hospitality sector, which accounts for a small portion around 2% of FPT's total revenue, remained heavily affected due to travel restrictions.
Our residential property business saw steady recovery during the second half of 2020. This was mainly a result of our competitive pricing strategy to boost sales, coupled with the opening of online sale channels to meet the growing demands for low-rise properties in the "new normal" business climate. Accordingly, we have seen our total presale value rose by 3% Y-o-Y to THB 31,838 million from a total of 60 active projects.
Meanwhile, our industrial property business managed to maintain overall portfolio occupancy at 81%, with net addition of leased area in FY2020 totalling 170,663 sqm., most of which driven by completion of new built-to-suit facilities such as the world-class omnichannel distribution centre for Central Retail and the multi-temperature controlled distribution centre for Havi Logistics. These two projects set forth a new standard for next generation logistic centres with distinctive design concept that incorporates social sustainability and human-centric approach to promote greater work-life balance while maximizing space efficiency to address business needs in the short term and longer term. The facility was developed under eco-sustainability framework to meeting the green building standard certified LEED (Leadership in Energy and Environmental Design). In addition, this year the Company launched a new Asset Enhancement Initiative (AEI) project with human-centric approach to enhance the quality and eco-efficiency of our prime ready-built factories and warehouses in strategic locations at Navanakhon Patumthani, Rojana Ayutthaya, Wangnoi and Sriracha to meet the dynamic needs of our tenants in the Industrial 4.0 era.
Through the solid execution of various strategic initiatives aforementioned, FPT was able to deliver resilient performance, reporting THB 20,490 million in total revenue and THB 2,840 million net profit for a 12-month period ended 30 September 2020, representing a drop of 5.0% and 18.5% Y-o-Y respectively (Taking into account Gold consolidation under common control since 2019) which was considered modest compared to the unprecedent scale and impact of the COVID-19 crisis. Meanwhile, overall liquidity remained strong as the Company was able to raise THB 3,207 million by means of Rights Offering to existing shareholders in July 2020 with positive responses from investors. The divestment of industrial assets worth over THB 2,858 million to Frasers Property Thailand Industrial Freehold & Leasehold REIT (FTREIT) has further bolstered the Company's financial strength, while the issuance of THB 6 billion debentures was well-supported by the investing public with oversubscription demand. The Company continued its financial discipline and maintained an appropriate level of debt-to-equity ratio, as evident from TRIS Rating reaffirmed FPT at "A-" rating with "stable" outlook reflecting our robust capital management and growth potential to drive forward a sustainable business.
While we have remained prudent in the face of ongoing uncertainties related to the COVID-19 situation, we have been successful in realigning our organisational structure through the merger with Gold. The enlarged business scope under the new integrated structure will enhance efficiency in business operation with greater collaboration and synergies. To ensure we are able to effectively respond to sudden changes, a Business Continuity Plan (BCP) has also been drawn up to monitor the evolving situations and take necessary actions to counter any possible negative impact on our operations in a timely manner.
In addition to our business progress, we are proud that on 19 November 2020, the Company received an "Excellent" 5-star rating for corporate governance assessment according to the Survey of the Corporate Governance Report of Thai Listed Company (CGR) for the year 2020 from the Thai Institute of Directors Association (IOD), under the support by the Stock Exchange of Thailand.
The Company recognises the importance of sustainable development and is fully committed to engaging its business circles throughout the supply chain and beyond to deliver sustainable social impact as part of business processes. We are therefore delighted and proud that this year several of our developments have received awards from internationally certified bodies in recognition of our efforts and contributions towards sustainability. Samyan Mitrtown won the Smart Mixed-Use Development Award from the International Property Awards at the Asia Pacific Property Awards 2020-2021; while Mitrtown Office Tower achieved the LEED Gold certification from the US Green Building Council (USGBC). Meanwhile, FPT made it into the Thaipat Institute's top 20 emerging companies for outstanding environmental, social and governance (ESG) performance. In addition, the Company was selected as one of the Thailand Sustainability Investment : THSI 2020 from the Stock Exchange of Thailand. Such recognitions serve as a testament to our sustainability commitment in operating business to deliver enriching experience for all stakeholders. We will strive to be at the forefront of corporate sustainability and social responsibility in Thailand.
On behalf of the Board of Directors, I would like to express my sincere appreciation and thanks to all our shareholders, businesses alliances, REIT unit holders, financial institutions, bondholders and customers for your trust and continued support. I would also like to thank our management team and employees for your dedication and relentless efforts in leading business well through one of the most challenge times. With a solid operating and financial foundation together with our people competency, I am confident we will be able to get through the COVID-19 crisis together and continue to grow sustainably for years to come.
Mr. Chainoi Puankosoom
Chairman of the Board