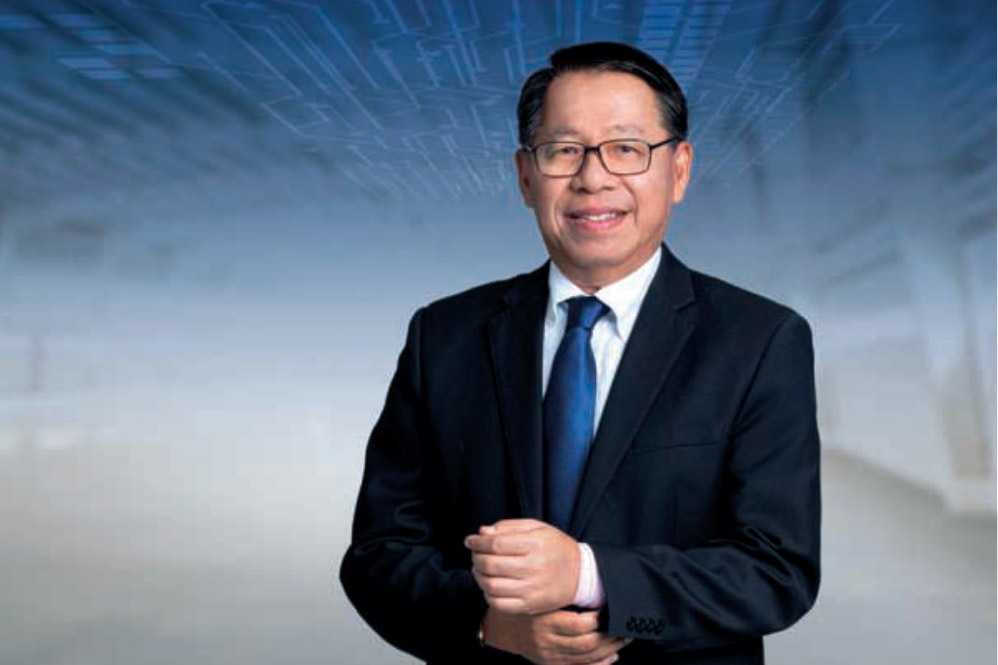 To Shareholders of Frasers Property (Thailand) Public Company Limited
2021 marked the full fiscal year of Frasers Property (Thailand) Public Company Limited with an enlarged operating structure following the acquisition of Golden Land Property Development Public Company Limited in 2020. Expanding from industrial property, data centre and smart solutions towards residential, commercial and hospitality property; the integrated real estate portfolio with differing risk profile has not only enhanced our income generating capability, but also reinforced long-term sustainability and provided diversification benefits to cushion the business performance against cyclical risks associated with a single-asset class which may arise from external factors.
The multi-asset business portfolio has proven robust amidst the severe economic downturn caused by the Covid-19 outbreak throughout 2021 which heavily affected the Company. Over the twelve-month period ended 30 September 2021, the Company recorded THB 15,721 million total revenue and THB 1,567 million net profit, a drop of 23% and 45% Y-o-Y, respectively which corresponded to the industry situation. In effect, the real estate sector had been directly impacted by the Government's lockdown and work-from-home measures to contain the Covid-19 infections. Nonetheless, our financial position remained strong with ample liquidity from a well-diversified investment portfolio of multi-asset classes leading to a stable cash flow and recurring income generating capacity. Underlying a disciplined capital management, our healthy trust profile remains with TRIS upgraded our credit rating for 2021 from "A-" to "A", with a "stable" outlook.
Deteriorated operating results in 2021 were partly attributed to the adoption of Thai Financial Reporting Standard 16 - Leases (TFRS 16) stipulated by Federation of Accounting Professions, which led to the absence of revenue from unearned leasehold rights associated with land sub-lease contracts. Meanwhile, rental income also dropped from the relief packages selectively granted to tenants whose business directly affected by the state lockdown measures. Financial institutions have also tightened rules on mortgage lending as household income became insecure due to uncertainties in the employment market, especially in the sectors most affected by the pandemic. On the other hand, the uptrend of e-commerce and manufacturing relocation for greater supply chain resilience and cost optimization have spurred growth in the industrial property segment. New take-ups of leased space rose substantially from 300,000 square metres last year to 500,000 square metres in 2021, mainly attributable to the demand for large-scale logistics facilities. Our distinctive capability to cater for integrated industrial property solutions continued to win trusts from the leading corporations across various industries.
Furthermore in 2021, we have successfully recycled quality industrial and logistics assets with committed customer contracts to FTREIT, which the Company held a 26.62% stake. As regard our data centre and smart solutions segment which is a joint venture partnership where we hold a 51% stake, the first hyperscale 7-story data centre building has been completed with over 30,000 square metres of gross floor areas and 20 megawatts of total IT load capacity. The Company started service commencement in August 2021 with overwhelming demand by large enterprises and leading companies of the country. As at September 2021, the newly opened data centre campus registered 50% occupancy rate, with a plan to continue the next phase expansion that would bring the total IT load capacity to 40 megawatts. Meanwhile, we have embarked the investment in Vietnam this year with the first industrial project development on a 300-rai land plot located in the industrial and logistics hub of Binh Duong province. The first phase is expected to be completed with revenue contribution by mid-2022.
Alongside the aforementioned achievements, we are proud to have played a part in supporting the fight against the Covid-19 outbreak. The Company offered spaces at Samyan Mitrtown to support the Government's vaccination roll-out programme for the general public, and converting factories in Ayutthaya, Chonburi and Rayong into field hospitals and community isolation centres for Covid-19 patients in collaboration with the provincial authorities. Meanwhile, we remain firmly committed to enhancing sustainability development in compliance with the principle of good corporate governance and ethical conduct across all the business segments, taking into consideration the corporate responsibility towards all stakeholders, society and environment, whilst fully enforcing anti-corruption policy to suppress all forms of corruption.
We are well-positioned for recovery once the Covid-19 situation started to show signs of improvement. Our resilient business platform and customer-centricity approach with utmost consideration to the needs of customers especially in times of crisis, has allowed us to maintain the occupancy rate of commercial and retail property portfolio at 91% and 96%, respectively. As for the residential segment in 2021, we have endeavoured series of new projects in selective locations to meet the changing lifestyles and expectations of homebuyers, particularly in terms of privacy, health and safety, wellness, and ease of transportation, resulting in total presales value comparable to the previous year. With strengthened financial position, the Company strived to deliver continuous returns for our shareholders, hence the Board of Directors have resolved to make annual dividend payment of 0.34 baht per share, amounting to 50% payout from consolidated net profits. The agenda will be brought for approval at the 2022 Annual General Meeting of Shareholders.
Finally, on behalf of the Board of Directors, I would like to express my sincere appreciation and thanks to all our shareholders, business alliances, unitholders, financial institutions, bondholders and customers for your trust and continued support. I would also like to thank our management team and all employees for your dedication and relentless efforts in leading our company through one of the most challenging times. With our experience and expertise, coupled with operational and financial resilience, I am confident we will be able to overcome the crisis and emerge stronger for the years to come.
Mr. Chainoi Puankosoom
Chairman of the Board